Email us or call to place your order or for more information.

We also offer macarons each day in the bakery until sold out.

Macarons are GLUTEN FREE!
A Partial List of Flavors and some Original Creations from Pastry Chef Roman Blas
Chocolate Miso Caramel
Southern Red Velvet
Smores
Key Lime Pie
Raspberry Rose
Cotton Candy
Tangerine
Citrus Mountain Dew
Chocolate Torrone
Red Bull Blue Velvet
Banana Toffee Crunch
Coconut Passionfruit
Pancakes and Bacon
Strawberry Margarita
Snickerdoodles
Vanilla Salty Caramel
Blueberry French Toast
Raspberry French Toast
Cherry Cola
Cherry Moutain Dew
Lemon Lime Soda
Strawberry Champagne
Pink Grapefruit Guava
Chocolate Peanut Butter Salty Caramel
Chai Spice Latte
Toasted Coconut Creme Brulee
REVIEWS ON OUR MACARONS -
YESS! Yes, yes... and yes!
I ordered three dozen macaróns for a trunk show/reception I was hosting.
I ordered a week in advance and received a prompt reply from Roman regarding my order.
Let me just say... I am a total macarón snob. The shells HAVE to be perfect-- that initial crunch, the soft interior, and a perfect foot on the bottom Not only did this have all three, the value of these was phenomenal. They were quite large compared to the typical macarón. A nearby bakery sells ones that have the diameter of a fifty cent piece for about $2.50 a piece. OTR's are easily three times the sizes at only $2 each. The more expensive ones don't have the right texture as these do.
These are definitely on par with the renowned Ladurée in Paris!
I ordered rose raspberry, vanilla and coconut chocolate (all tinted to match a vintage tablecloth they would be displayed on). Each flavor was out of this world, and the colors were spot on.
Attendees who stated they didn't like macaróns tried these and were floored at how amazing they tasted.
I am VERY pleased with my order from OTR and I will definitely be back again.
Tayva M. Palm Springs - 12/7/13 Yelp.com


Macaron Tower - 40th Birthday ACE Hotel Swim Club! December 15, 2013
Customer comment - "Close up of the macaron tower I made for Holly's birthday. Those macarons were gigantic and delicious! Macarons supplied last minute by Over the Rainbow Desserts of Palm Springs when my original bakery cancelled on me without notice. Thank you so much!! They were a huge hit!"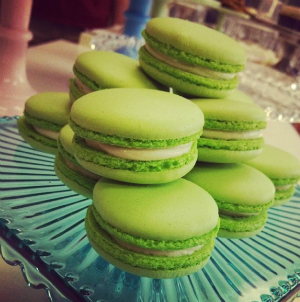 Key Lime Pie - Yum!